GDH Special @MFF site – pre-CEEGS meetup
Organizers: Jakub Gemrot (Charles University), Lukáš Kolek (Charles University)
Event will be organized on 10. 10. 2018.
In this international meetup, GDH teamed up with CEEGS conference and will bring you two very special guests – Georg Hobmeier and Rares Christian Filip Chirita.
Georg Hobmeier is a media artist and game designer that has been prowling the European cultural jungles since the dawn of post-postmodernism. With his company Causa Creations, he works on games and transmedia projects in close collaborations with various cultural and educational partners. As a member of the artist collective gold extra he has been exhibiting and presenting game related art at numerous festivals, venues and conferences. Recent and ongoing works include the games Path Out, The Fallen and Vienna – All Tomorrows.
Rares Christian Filip Chirita has been participating in game jams since 2012 and organising game jams since 2016. He is organising the Bucharest Global Game Jam site and will soon be organising a Castle Jam in the UK. Throughout his career, Chris has been event organiser, game designer, producer and photographer, and still keeps in touch with all of these disciplines.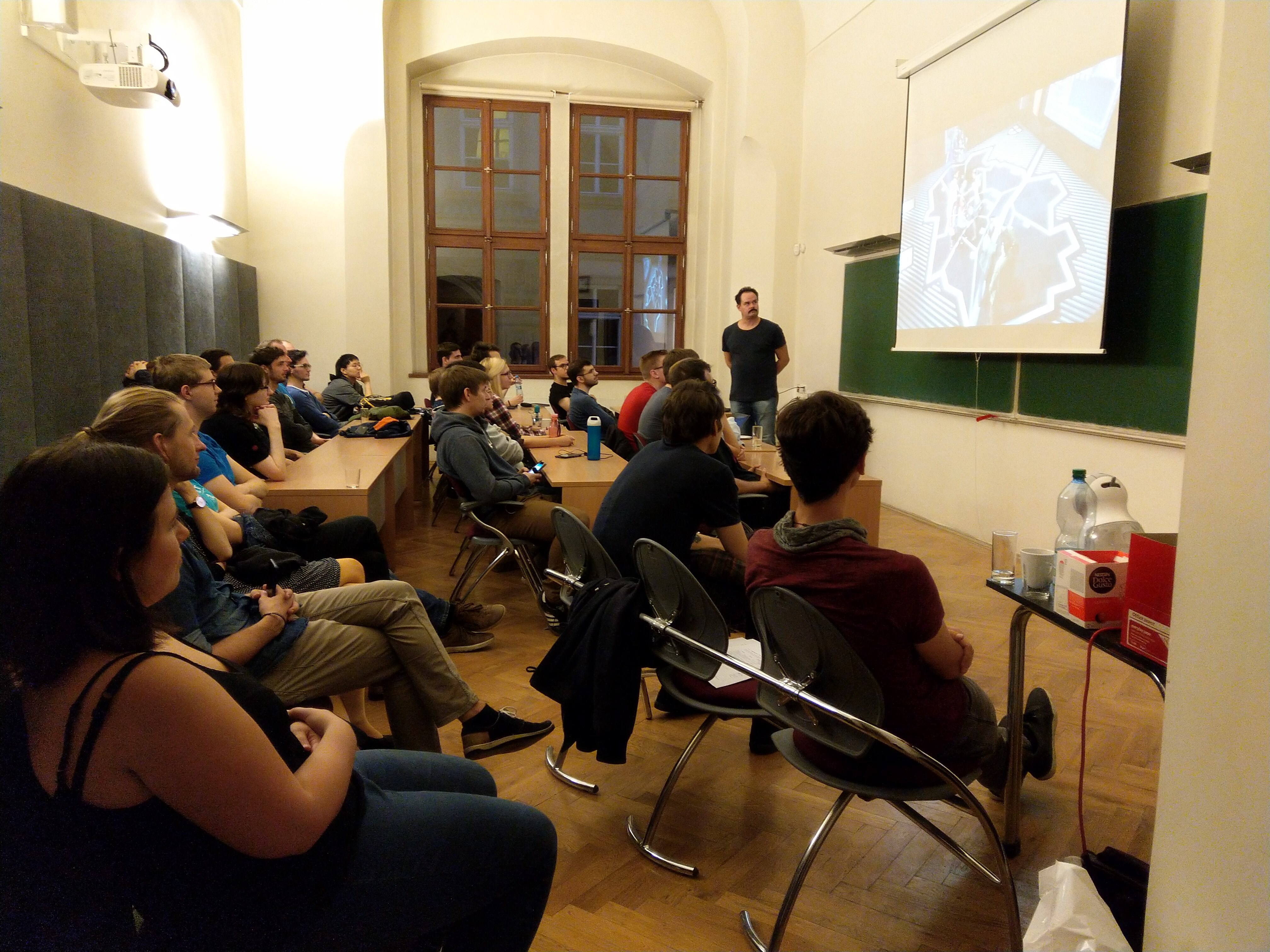 Georg Hobmeier will give a quick tour through his recent endeavours in games and game-based art, from autobiographical adventures to multiplayer AR experiences.
Chris will go through some funny, interesting or moving stories from game jams he has organised. From organising a boardgame-only game jam site to creating an ad-hoc network of mobile hot spots for internet access, Chris will look back at the people he met and situations he dealt with.
WHEN, WHERE?
Event will be organized on 10. 10. 2018. The talks will take place in the S building of the Faculty of Mathematics and Physics. Event will take place at room S9.

SPEAKERS

18:00 – 18:05 – Introduction by Jakub Gemrot

18:05 – 18:40 – Lecture by Georg Hobmeier

18:40 – 19:20 – Lecture by Rares Christian Filip Chirita

19:20 – 19:30 – Closing remarks by Jakub Gemrot





Google maps
---